enrich360® Food-waste Dehydrator
The world's fastest food-waste dehydrator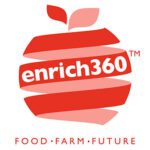 The enrich360® dehydrator system turbo-charges the food waste decomposition process through accelerated dehydration and agitation, reducing the original waste volume by between 80 and 93%. Food waste is placed inside the food dehydrator where it goes through a fully automatic process of dehydration, sterilisation and volume reduction. No additives are required – no water, no sawdust, no enzymes. The equipment requires only the input of electrical power for motors and heat energy.
Food waste is simply loaded and the process thereafter is fully ­automatic and takes approx. 8 to 24 hours to complete depending on the size of the unit.
At the end of the process, the machine is emptied completely and is immediately ready to receive the next load. The machine can be loaded and run seven days a week -no need for any lay days with this process.
The product from this system will be utilised as a directly-applied fertiliser, a pelletised fertiliser or as a compost enhancer.
Instead of the greenhouse gases and leachate that would be generated in landfill. the food waste we treat is being converted into a fantastic, sustainable resource.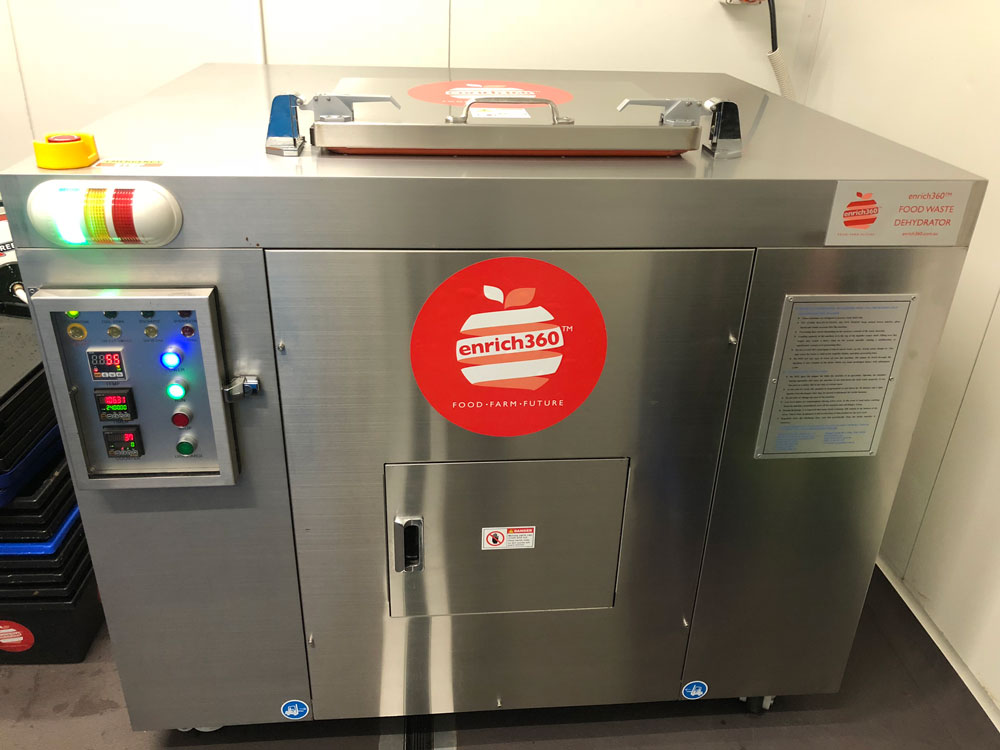 enrich360® food waste dehydrators come in a variety of weight capacities from 22kg per day up to 1.1 tonne per day. The units are constructed by a world leader in this technology and feature stainless steel body and exterior for easy cleaning. They are simple to use, compact and efficient.
"Everything goes in; meat, fish, fruit, vegetables, coffee grinds, flower displays."
enrich360® arrange delivery to your premises. provide professional installation and we include ongoing planned maintenance program. including parts (subject to appropriate use conditions). Full parts supply is held at our Melbourne Service Centre.
The enrich360® team will support you every step of the way, with staff training, site signage, monitoring and ongoing account management, ensuring you continue to get the very best out of your dehydrator and the enrich360® program.
Features and benefits
Programmable Logic Controller
Motor Overload Sensor
Moisture Sensor (Instead of Timer Operation)
Paddle Shaft with Dull Blades
Proprietary Cooling System
Automatic Open & Close
Automatic Bin/Tote Lifter
Bin/Tote Counter
Simple One-Button Start/Stop
Stainless Steel Body
Air Tight Sealing
Quiet Operation
Unique Heating System
No Venting Required
Outputs (Sterile Biomass & Condensate - Water)
Enclosed Lifting Mechanisms
Discharge Safety Lock
Emergency Shut-off Button
Logistics
As part of your enrich360® implementation, we will advise on the best bins and crates for collection and material handling equipment, for both food waste and enrich360® biomass. Our solutions are designed to ensure your waste is handled in a safe and hygienic manner throughout the process.
enrich360® Certification
Everyone involved in the enrich360® program, no matter how small their part is a member of our circular economy. Once you are up and running and reach the accreditation standards you will be able to undergo a Certification Audit and receive your enrich360® Accreditation.
This is a good way to get your staff involved and committed to the program and create great Public Relations opportunities for your restaurant and your various stakeholders.
Join enrich360® the movement today!
enrich360® encourage restaurants to reduce wastage and donate useable food to food charities leaving just residual waste for processing into fertiliser.
Restaurants then reduce their residual food waste volume by up to 93% using enrich360® food waste, dehydrators!
Dehydrate from 22kg to 1.1 tonne per batch, leaving 7-10% residual biomass, which doesn't smell or attract vermin or bugs.
The enrich360® dehydration process also creates reusable water of around 75 litres per I 00kg of food waste.
enrich360® residual biomass is sterile and pathogen free; suitable for use as a slow-release fertiliser or additive co compost.
enrich360® fertilser and compost helps reduce soil degradation and helps grow better more nutritious produce.
The real win is saving 2.8 tonnes of methane gas from been released from every tonne of food waste sent to landfill.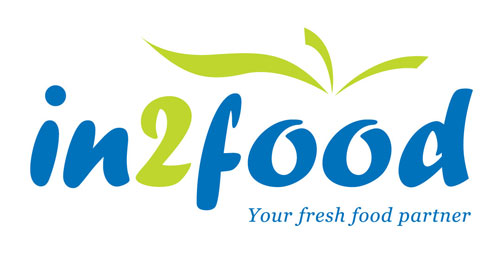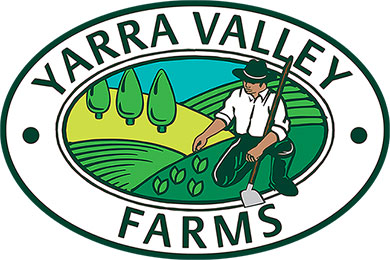 Contact us for enrich360® pricing